Welcome to Keller Williams Advantage Realty Toronto-Beach/Riverdale.

Thank you for starting your real estate search with us. Our website is full of information for you, whether you are looking to buy or sell a home.

Our Keller Williams Advantage REALTORS® are ready to help you with all your real estate needs. We appreciate the opportunity to earn your business.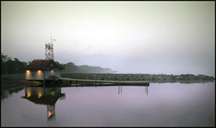 THE BEACH is a popular getaway destination right inside the city. Famous for the boardwalk and park system, miles of sandy shoreline, local sailing and yatch clubs. And a favourite neighbourhood for just hanging out in coffee shops, restaurants and specialty boutiques along Queen Street East and Kingston Road. One of the biggest summer attractions in Toronto is the Beaches Jazz Festival which usually takes place in the third week of July. Queen Street is closed to vehicle traffic to promote a full mardi gras atmosphere of celebration and music where bands from all corners of the international jazz scene play in venues that range from street corners to the Kew Park Band shell. It's a summer tradition not to be missed!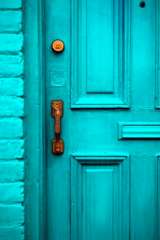 THE BLUFFS is an escarpment running from the foot of Fallingbrook Drive all the way to Highland Creek. Although for the sake of real estate designation the boundaries are Victoria Park Avenue on the west side, south of Danforth Avenue and where Danforth Avenue meets Kingston Road to Lake Ontario and east to Markham Road. Within these borders they are divided into a number of different areas known locally as Fallingbrook, The Hunt Club, Birchcliff Village all within the Birchcliff area, Cliffside, Cliffcrest and Scarborough Village. Comparing the Bluff to its neighbour, The Beach, homes have, generally, larger lots and are more affordable. Yet its only a five minute drive from Birchcliffe, and twenty five minutes, from Scarborough Village to the heart of the Beach area.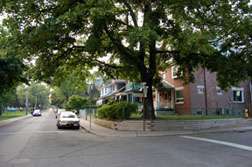 EAST YORK The demographics of East York is defninitely in transition. In the past it was known to have the highest percentage of senior citizens in the city. There has been a recent influx of more young families who have taken advantage of the affordability of the neighbourhood and its close proximity to Downtown. Many of the original bungalows are now being "topped up" to create larger homes as the gentrification to the area continues. The area has a number of different communities within its boundaries, Playter Estates, Old East York, Woodbine Heights, Woodbine Gardens and Parkview Hills. The Don River and its extensive trail system border the north, the vibrant destination of cultures on Danforth Avenue is the southern border stretching all the way east to Victoria Park Avenue. East York is also comprised of many small shopping pockets mostly located on the major north/south streets like Broadview, Donlands, Coxwell and Pape all with their own unique shops and cultures.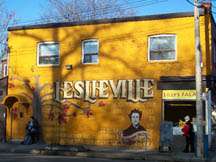 LESLIEVILLE It's hard to tell when a neighbourhood like Leslieville converts from being an "Up and Coming" neighbourhood to a white hot "It" neighbourhood. But Leslieville is definitely on its way up. It's close to downtown, close to highways, and despite its recent rise to fame as a darling of the real estate industry it still has very affordable homes for the first time buyers. The area is home to much of the Toronto industry. There are many spin off companies that also share Leslieville from photo, design, and sound engineering studios, caterers and florists too. As well as fantastic coffee houses, restaurants, pubs, parks and shops. Doesn't it sound like an established neighbourhood?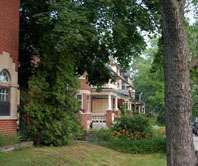 RIVERDALE is one of those difficult areas to clearly define. It's comprised of a few smaller areas like China Town East, Riverside, Jones-Blake Pocket and of course Riverdale itself was a separate area. These smaller areas are included under the Riverdale umbrella which is bordered by the Don River Valley to the west, Pape Avenue and the CN/GO tracks to the east, Danforth Avenue to the north and Eastern Avenue to the south. Riverdale is home to a wide range of lifestyles, it's home to artists and executives families and single urban hipsters, grand Victorian homes and ultra chic loft conversions, and it's all just minutes to the Downtown Core. For more information see Riverdale. (add Hyperlink to Riverdale)